DMXAC8
A-000000-05931
EAN code: 4052809230641
The Involight DMXAC8 is an ArtNet node that can convert up to eight universes from ArtNet to DMX 512 or vice versa. A maximum of 4096 channels can be transmitted over a CAT5 cable. The data rate is 10/100 MBit. All settings can be made in the menu on the display using the buttons on the front. Splitter operation possible.

Specifications


LCD display (2 x 16 characters)
DMX512 inputs: 2 x 3-pin XLR built-in plugs
DMX512 outputs: 8 x 3-pin XLR chassis-mounted coupling
Ethernet: 2 x RJ45, 10/100 Mbps (Neutrik etherCON)
Protocol: Art-Net 3
Power supply: 100-240 V AC, 50/60 Hz
Power consumption: 5W
Dimensions (LxWxH): 483 x 168 x 45 mm
Weight: 2 kg
Related Products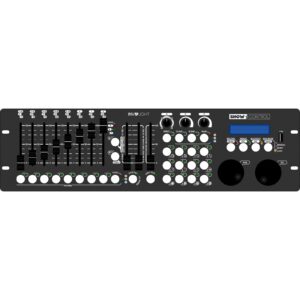 A-000000-05909
EAN code: 4052809230207
DMX-512 controller, 24 devices each with up to 26 DMX channels controllable, jog wheels, USB
The completely new "COMMANDER" series from INVOLIGHT includes a large number of newly developed DMX controllers for a wide range of applications. The series offers controllers for e.g. LED spotlights, scanners, moving heads and other DMX-controllable devices. They were all designed with the latest know-how and innovative ideas and offer a correspondingly high level of user-friendliness. Particular attention was paid to a simple, easy-to-learn operation. All controllers are delivered with a detailed, clearly understandable user manual in German and English, so that the user can understand the console quickly and apply it professionally. The "SHOWControl" is a console specially developed for moving heads and scanners. To quickly and easily program professional shows, it has 8 ready-made and directly recallable motion patterns. So your moving heads can perform a nice circle, an 8 or other movements by pressing a button. These can then be adjusted in speed, orientation and size. Thanks to the "Delay" function, the movements to the other devices can even be delayed, resulting in very nice patterns! For wash lights and / or headlamps 4 pre-made color change programs are available. The "SHOWControl" can manage and control up to 24 devices with up to 26 DMX channels each. Also a special button for the connection of a fog machine is integrated. It can be programmed up to 36 individual scenes, which can even be combined in the chases. Thus, each chase 36 memory slots can be stored with 100 scenes. Very remarkable is also the color mixture according to the HSV principle (Hue, Saturation, Value). With 3 knobs, you can directly set values ​​for color mixing, saturation and depth when connecting multi-color spotlights or washlights. Also particularly noteworthy is the USB port. Here shows or individual scenes can be saved on USB sticks and read in accordingly, should there be a loss of data.