EASYCONTROL
A-000000-05904
EAN code: 4052809230221
DMX-512 controller, 12 devices each with up to 16 DMX channels controllable

The INVOLIGHT "EASYControl" is the official successor to the "DL-192"! With 192 control channels for up to 12 projectors with 16 DMX channels each, it offers everything a scan controller needs. Quickly create simple scenes and save them directly into the device. You can save a total of up to 184 scenes. In addition, 6 chases can be saved. Each chase has 184 scenes. There is also a blackout function. The Speed ​​/ Fade controls let you slow down or speed up your saved show live. In addition, a microphone is integrated into the console to play saved scenes musikgedaktet. Also new is a MIDI port for controlling the console with a keyboard and a USB port for connecting a USB light.
Specifications


192 control channels for up to 12 projectors with 16 DMX channels each
Music control: via built-in microphone
4-bit LED display
23 banks with 8 scenes each programmable
6 chases (combined scenes), each with up to 184 scenes programmable
DMX 512 output: 3-pin XLR chassis connector
MIDI port
Blackout function
19 'installation dimensions with 3 height units
Power supply: DC 9 / 12V / 500mA
Dimensions: 482 x 133 x 82mm
Weight: 2.0kg
Related Products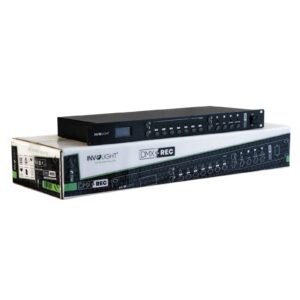 A-000000-05912
EAN code: 4052809230245
DMX Recorder, 19″
It is probably THE solution for installations and distributors: the "DMXREC" from INVOLIGHT. The principle sounds simple – and is it: The "DMXREC" is a DMX recorder that can record complex scenes no matter what they were created with. And that across the entire spectrum of a DMX universe, ie 512 channels. Afterwards, up to 7 shows can be conveniently selected and played back via the "RECPanel" control panel or via the recorder itself. In practice, this is also very easy to implement: Create as usual with your DMX controller or DMX software scenes or shows. Then connect the controller or the software interface with the "DMXREC". This switch to "Record" and play back your created shows. The "DMXREC" records these values ​​and saves them. There are 7 memory slots available. If all scenes and shows have been recorded by the "DMXREC", you can play them back with the "Play" button and also adjust their speed. The "DMXREC" plays the selected show in an endless loop, so that no interruptions take place. The optically very noble "RECPanel" is intended for wall mounting. It can be installed discreetly in catering establishments in areas accessible to personnel. The connection between the recorder and the panel is realized with a simple network cable that can be conveniently purchased in the desired length in any electrical market. For lenders, perhaps even the recorder is enough, which is why the two items from this set are also available separately. We recommend this innovative solution especially for catering establishments, where the staff should start and stop shows without prior knowledge and for lenders who want to prevent stored scenes or shows from being altered or even deleted accidentally.