ALPINA600
A-000000-05885
EAN code: 4052809315577
Effect snow machine 600W, cable remote control
Very cheap, small effect snow machine.
Foam snowflakes are thrown up to 4m into the room.
Power of the machine: 600 watts.
Of course, a remote control is included.
The discharge quantity is regulated via the controller on the remote control.
With 2 different blower levels, the snow throw can be adjusted in the width.
Ideal for the theme of 'winter' in discos, theaters etc.
Specifications


Operating voltage: AC220-230V, 50Hz
Power consumption: 600W
Power connection: IEC power input socket with fuse holder
Tank capacity: 1 liter
Remote control included: wired remote control X-4
Housing material: metal
Housing color: black
Dimensions with bracket: 470 x 265 x 200 mm
Weight: 5.3 kg
Related Products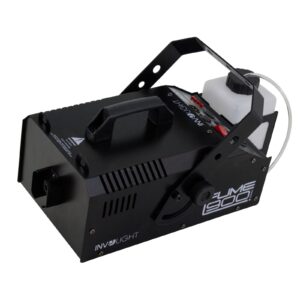 A-000000-05878
EAN code: 4052809315508
Good things have been improved, tried and tested things have been retained! FUME is the new product line from INVOLIGHT. It represents the upper class for demanding users. The "FUME900DMX" is a professional fog machine with excellent features. The machine has an Electronic Thermo Sensing (ETS) system for extremely short heating phases. To protect the pump, an optical sensor is also installed, which switches off the pump if the fog fluid level is too low. The "FUME900DMX" offers a powerful output with a volume of 226m³/min. and has high quality components. The pump, heating element and control boards are selected with the greatest care and offer a very high level of operational safety and reliability in this price range. A 4-channel radio remote control "W-2" (433MHz) is included as standard. In addition, the machine can also be controlled via DMX protocol. The output can be activated and the strength adjusted via a DMX channel. An LED display enables addressing. The tank holds 1 liter and a level indicator shows how much fluid is still in the tank. An "X-2" cable remote control and a "D-800" timer controller can be ordered as an option.