Barndoor COBPAR-Series
A-000000-05459
EAN code: 4052809267364
Barndoor for COBPAR series
Barndoor for Involight COBPAR series headlights.
To limit the light cone or as glare protection for the audience.
Smooth-running screw bearings for smooth rotation.
Color: matt black.
Related Products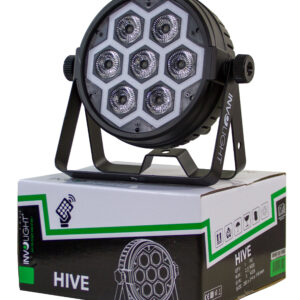 A-000000-06078
EAN code: 4052809268118
LED PAR spotlight 7x RGBWA+UV LEDs, 60 RGB SMDs & IR remote control
The "HIVE" is a professional and powerful LED spotlight that achieves an enormous light output with its 7x 6-in-1 RGBWA plus UV LEDs. This means that all imaginable colors can be mixed perfectly and particularly brightly. In addition, the "HIVE" was equipped with transparent front covers. Behind it are 60 RGB SMD LEDs for spectacular background lighting effects and magnificent light shows! The "HIVE" can be operated in stand-alone, sound, master/slave or DMX mode and is equipped with an IR remote control as standard. All operating modes/settings as well as DMX addressing can be conveniently done via the digital on-board menu. Thanks to the Powercon-compatible input/output sockets, several spotlights can be operated on one phase without having to lay a separate power line for each device. The standard double bracket is also clever, which means it can also be used as a floor spot.