USF2000
A-000000-05984
EAN code: 4052809315683
Water-based ultrasonic fog machine, DMX, 1800W – Ultrasonic technology replaces dry ice and CO²!
The Involight USF2000 is a professional ground fog machine based on ultrasonic technology with a whopping 1800W power. Thanks to the built-in ultrasound technology, dry ice or CO² is no longer necessary for operation. The water filled in is atomized using ultrasound. This mist, mixed with the mist generated from conventional fluid, lies across the floor without rising in the room. The short heat-up time of 4 minutes enables rapid operational readiness and mist generation on demand. The Involight USF2000 can be controlled stand-alone via the integrated display or via DMX. It is therefore suitable for use in discos and weddings as well as for touring use.
Matching hose with outlet: Art.Nr: A-000000-06030 (not included)
Specifications


Product type: fog machine
Works with commercial fog fluid and conventional or distilled water
Adjustable timer with interval, duration, and amount of fog
Water tank capacity: 8 liters
Fog fluid tank capacity: 1.2 liters
Warm-up time: about 4 minutes (depends on the ambient temperature)
DMX input: 3-pin XLR male
DMX output: 3-pin XLR female
Power connection: IEC power input socket with fuse holder
Operating voltage: AC220-230V, 50Hz
Power consumption: 1800W
Dimensions: 345 mm × 360 mm × 785 mm
Weight: 25kg
Related Products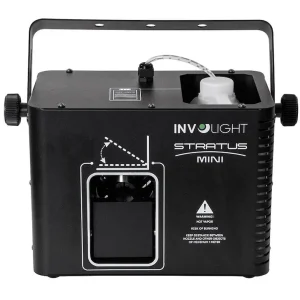 A-000000-06086
EAN code: 4052809315706
State-of-the-art heating technology without a classic heating block!
The INVOLIGHT "STRATUS MINI" is a hazer with DMX control! The fog is not emitted in dense clouds, but is distributed discreetly throughout the room! Due to the particularly economical consumption (2 liters are enough for 30 hours), the machine is extremely cost-effective to operate! Particularly noteworthy is the fact that the "STRATUS MINI" does not use a classic heating element. The necessary temperature is achieved by a type of heating cable that heats the fluid supply line. This technology is particularly safe and reliable. The "STRATUS MINI" has electronically controlled, economical thermostats that enable permanent fog readiness. The direction of ejection can be regulated using an adjustable flap at the front. The control unit integrated into the device allows settings such as addressing for 1-channel DMX control and manual output.